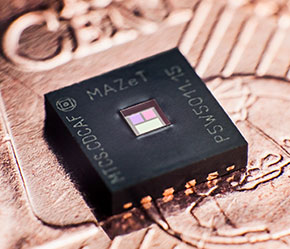 MAZeT will display an innovative sensor solution for controlling LEDs at LightFair International in San Diego, CA and again at SENSOR+TEST in Nuremburg, Germany in May. The company's MTCS-CDCAF color sensor is a fully integrated sensor chip in MAZeT's JENCOLOR line, the first to include a true-color filter function, integrated signal amplification based on charge-to-digital conversion, and an on-chip temperature sensor.
An LED's color or wavelength typically changes with temperature variation. As temperature increases, so does the wavelength of the color. Better thermal management allows more forward current to be applied to the LED, which translates to more light or fewer LEDs required for the desired light output. Maintaining a cooler assembly at an equivalent power equates to more light per die.
The MAZeT sensor chip works by measuring the color coordinates of light as XYZ signals in the CIE 1931 color space fast, directly, and precisely no matter the interference present. It uses interference filters that enable it to be reliable even over 100°C while maintaining sensitivity spanning its lifecycle. The sensor also measures color brightness, frequency, and flicker.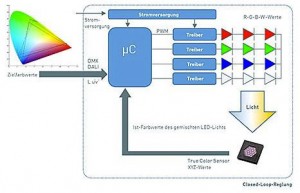 The areas of lighting the sensor solution targets include LED lights, LED backlight systems for monitors, architectural lighting, automotive and aircraft, in medical and technical lighting, and displays.
Based on these features, it is particularly suited to measuring and regulating LEDs while compensating for the interference that typically challenge them. The sensors are complemented by wireless transmission technology, software libraries, test boards, and operating software for Windows and Android.
MAZeT will also showcase a variety of LED control solutions that rely on mobile devices to precisely control color, color temperature, and brightness, without allowing temperature, aging, or outside influences to affect the visible color. Multiple lightboxes can be controlled in parallel based on the type of wireless connection used. MAZeT offers the electronics and control system to luminaire manufacturers and system integrators as series-produced OEM modules.