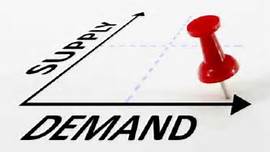 With growing frequency, we are being asked by customers, how much longer the shortages in passive components will last. The short answer is (no pun intended), at least until the middle of 2018, and in many cases, beyond that.
Some of these parts, ceramic chip caps in particular, started getting scarce in the second half of 2016. Since then, long lead times, and even restricted supply, have become the norm for entire families of thick and thin film chip resistors, inductors, surface mount aluminum electrolytic capacitors, some TVS diodes and MOSFETS, and many specialty capacitors including RF and polymer. Lead times of 30 to even 100 weeks on new orders are common, especially on automotive grade parts, and the inventory in the supply chain has been worked down throughout the year. Manufacturers of these parts have been actively managing backlog in an attempt to minimize the double booking phenomena that wreaks havoc with their production planning, capital expense spending, and business forecasting once this cycle has run its course. Everyone in the industry is feeling the pinch.
Most component manufacturers of constrained parts are limiting distributors and OEM customers to a quantity of product equal to prior year consumption. The bad news, or good news depending on where you stand on inventory, is that end markets for electronics are robust and underlying demand in component intensive segments like defense electronics, automotive and aerospace is strengthening. We believe that real demand for these constrained products has exceeded production capacity so it stands to reason that product availability won't get better until either demand cools off, or additional production capacity is added.
Many from whom we are getting this question have recently become aware of the widespread component shortages in passives and power semis. Much of the business for these parts these days runs through annual supply chain agreements for which pricing is guaranteed and product pipelined. As the expiration dates on these agreements approach, customers are starting up their processes for testing market pricing and product availability and quickly finding things have changed since their last negotiations. Their reactions this summer, hedge buys and the like, have helped make the shortage hole even deeper.
The reason we believe that shortages will persist well into next year are simple. End markets will remain strong, and in most cases continue to show some growth, until later in the year when leading indicators suggest things will start to slow a little. In addition, the component manufacturers are not rushing to add capacity, especially in large case size, legacy parts.
The market flatness of the past five years already had many component manufacturers dialing back capital spending for capacity expansion. A smart move, given the intense margin squeeze that simultaneously occurred as customers leveraged low lead times and easy product availability to secure aggressive cost-downs. The fact is that supply and demand were balanced many years ago so anything driving demand up, or supply down (both of which have happened this year), could only result in the shortages we are now experiencing.
Many of the parts that are hardest to get now have been in the market for years. Often times they are larger case size parts that are not as economical for the manufacturers as their newer, smaller counterparts. And with their length of time in the market, much (maybe all) of the potential for cost reduction through productivity efficiencies has been realized. The bottom line is that there is not an incentive for component manufacturers to add capacity – the profit contribution is already low so having more to sell at the same price is not an interesting prospect. The channel for passive components has been well conditioned to expect prices to go down, never up. These conditions are most prevalent in chip resistor manufacturing where the cost of the packaging can exceed the cost of the parts. Chip resistors are the industry's proverbial canary in the coal mine and they have been chirping for some time to no heed.
The inevitable follow on question from customers is, "what can we do?" The amount of pain any given customer is feeling for these constrained parts now is a direct result of sourcing and supply chain decisions made in the past. We believe that TTI customers are in the best shape of all, in large part due to our commitment to stocking inventory, the robustness of our supply chain programs, and our long practice of limiting the sale of long lead-time parts to new customers, thereby husbanding that inventory for our existing customers. We believe this for good reason…our component suppliers and our customers are telling us this is the case.
Ok, if you are not a TTI customer, this answer probably isn't helpful. One thing all customers can do, and should do, is open up their bills of material that contain hard to get parts and look for, and approve, alternatives. Alternative manufacturers and alternative versions of the part from the existing manufacturer. Distributors can be a big help with this but it will take some commitment from engineering to do the review and qualification required to make the additions to the AVL.
More often than you might realize, there are only a couple of sources and part numbers per socket on any given bill of material. Even on truly commodity capacitors and resistors many times there is only one source, especially in automotive. There seems to be a rather universal habit of selecting components from legacy programs for new designs which overtime narrows options on bills of material, and contributes to older, larger parts staying in demand, even as they become less attractive to the companies making them.
In a recent customer meeting, the procurement leadership of an EMS provider talked at length about the trouble this habit creates, and their frustration in getting their OEM customers to recognize it and take action. One person went so far as to observe that while a production line being down for any reason is his worst nightmare, the line being down because they are short a reel of resistors is even worse…the value is so small, in the grand scheme of things, and it seems like something that should have dozens of options, not just the one or two he is often faced with.
Better alignment between design engineering, component selection, and procurement is an answer. Having a relationship with a stocking distributor is another. Sounds self-serving but it is true nonetheless.
Michael Knight
Michael Knight is a 10-year TTI veteran with more than 25 years of industry experience to his credit. Recognized as a top industry thought leader he currently holds the position of Senior Vice President, TTI Americas.
https://www.ttiinc.com/content/ttiinc/en/resources/marketeye/categories/tti-insights/me-knight-20170921.html?utm=me-201709&channel=email&source=ttiinc&campaigns=tti-marketeye
At TTI, Knight oversees the Corporate Product Department.